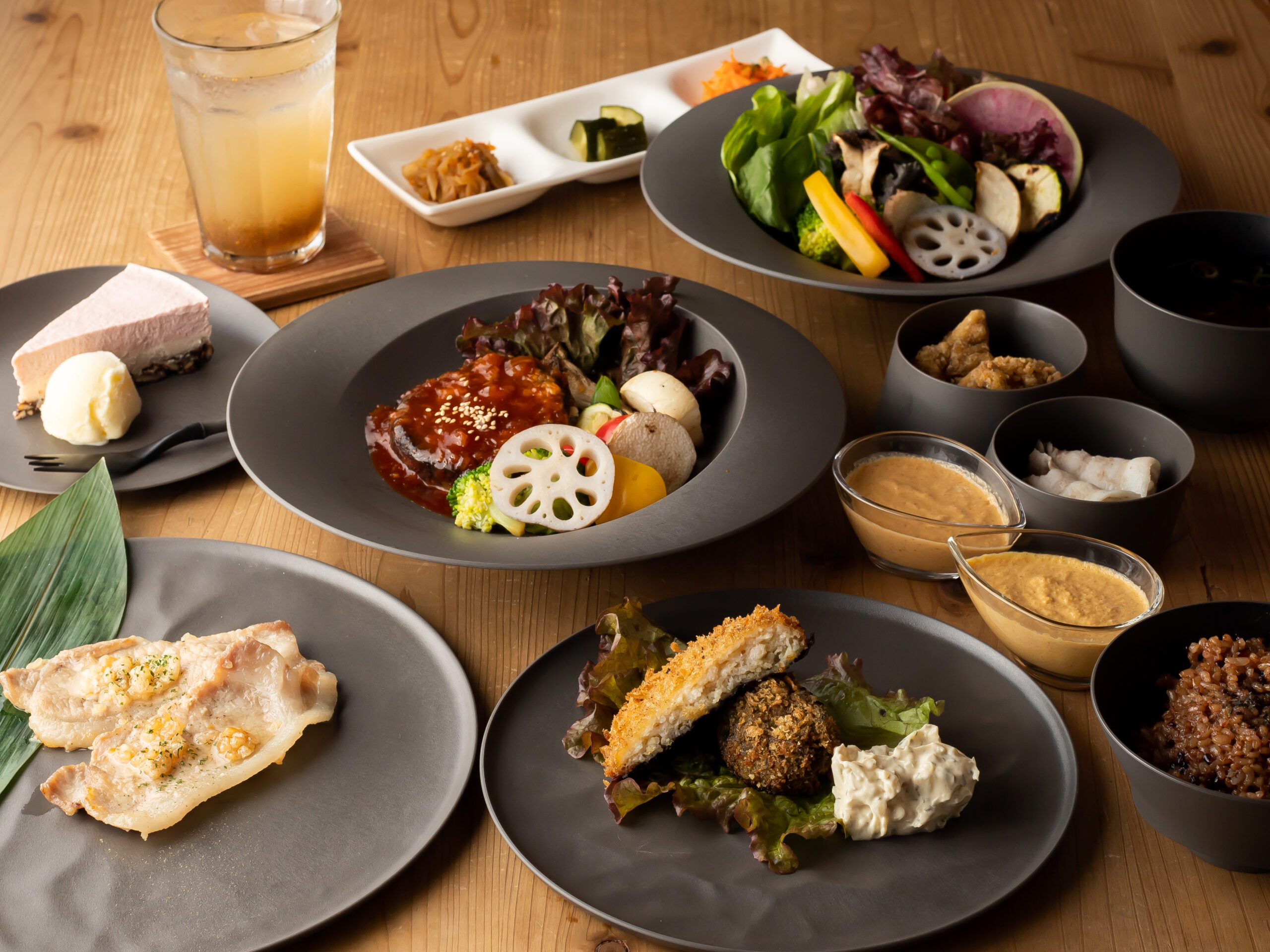 Enjoy a dinner time with healthy course meals.
Business hours: Dinner time from 18:00 to 22:00 (last order at 21:30).
Reservation required. Closed on Wednesdays.
We provide a space where you can be healed through food with our dinner time limited course, which incorporates local production for local consumption and macrobiotics. Please enjoy the hospitality of our chef's specialty dishes.
If you would like to start earlier, please let us know.
The course is limited to 2 hours.
For reservations after 21:00, we charge a late-night service fee of 500 yen per person separately.
You can enjoy a special course menu and a selection of premium drinks.
Dinner time menu offerings.
・Shabu-shabu course
・Chef's hospitality course
・Customizable group course
・Various original sour cocktails and a selection of premium drinks
We also accept group reservations. We can arrange a different course structure to fit your group size, budget, and requests. We can accommodate up to around 30 people. Please feel free to contact us for more information.
Regarding course reservations:
The course is available for a minimum of 2 people.
Depending on the content and number of people, preparation may take several days, so please consult with us as soon as possible. If the schedule of the head chef does not match, we may not be able to offer the Chef's Hospitality Course.
reservation in Japanese
We accept reservations by phone until 2:00 pm on the day of the reservation.
080-3204-9961
For reservations made through LINE, please make them by 2:00 pm the day before (if the day before is a Wednesday, then Tuesday).

 LINE officeal account ethical park
reservation in English
Please contact us for inquiries via short message, LINE, or our exclusive form.
As it may take time for us to respond, we kindly request that you make inquiries at least by 2:00 p.m. two days before your desired date.

short message to 080-6785-2255
 LINE officeal account ethical park
Healthy and warm deliciousness: Shabu-shabu course.
Seasonal vegetables and fragrant pork shabu-shabu: 3000 yen.
・Seasonal vegetables
・3 types of daily side dishes
・4 types of fragrant pork (pork loin, pork belly, thigh, and shoulder)
・Organic ponzu soy sauce
・Cucuri original sauce
*We kindly request a one drink order per person in addition to the course order. (Alcoholic beverages are available).
Additional service: ・Traditional Chinese medicine farming method rice porridge set +600 yen.
Using 4 different cuts of flavorful pork from the famous local brand of KAZO City, enjoy the tender and sweet meat together with various regional vegetables. Please savor it with our carefully crafted organic ponzu sauce and the popular original sauce of Cucuri Cafe. As a finale, please enjoy the blissful time by having a rice porridge set made from Seinousha's Kanpo farming method rice, seasoned with broth.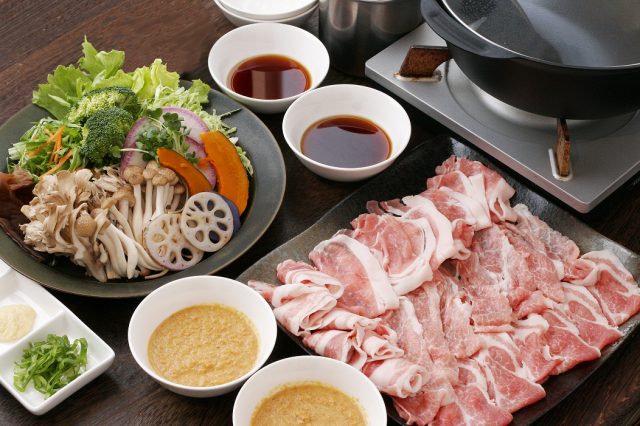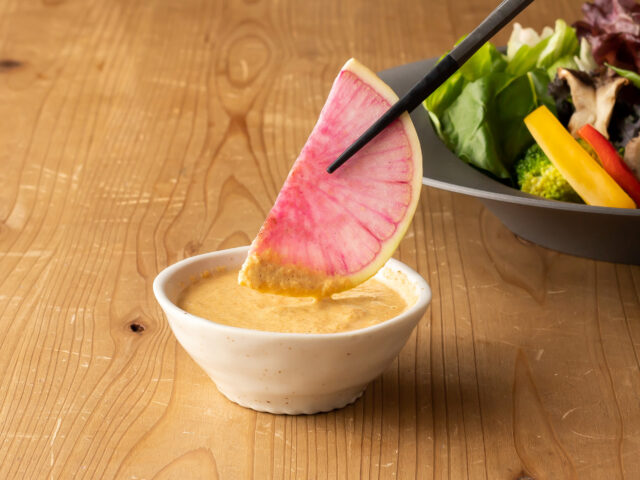 ---
The course menu where the chef himself provides hospitality for your precious time.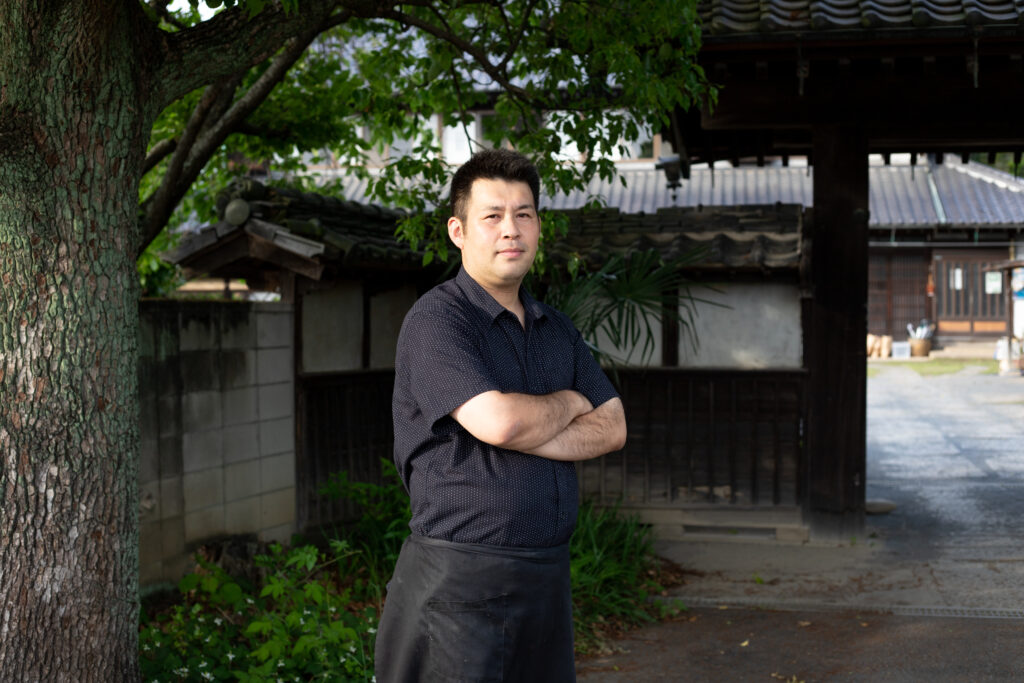 Getting married was a catalyst for me to learn about macrobiotics (local and seasonal eating, whole foods) and through this journey, I had the opportunity to learn from pioneers in the field, deepening my understanding.
As I delved into the teachings and guidance of these experienced individuals, I began to contemplate the significance of food in our lives.
Through engaging with our customers through food, we have developed a stronger commitment to delivering excellence in both the deliciousness and enjoyment of our dishes, as well as the role that food plays.
With the aim of creating a "barrier-free dining experience," we have crafted a variety of vegan menus that are accessible and appealing to everyone, allowing diverse individuals to gather around the same table.
We strive to ensure that our customers' valuable time becomes truly remarkable and memorable.
Light course 3,500 yen
・Assorted 3 kinds of appetizers of the day
・Seasonal vegetable salad with original dressing from Cucuri Cafe
・Choice of main dish (Please choose from the separate sheet on the day)
・Brown rice from Kanpou Nouhou farm (+50 yen for aged brown rice)
・Miso soup with soybean paste made from Kanpou Nouhou farm
・Coffee or herbal tea (You can change to a 550 yen drink for an additional 100 yen, or a 600 yen drink for an additional 150 yen.)
Dessert can be added for an additional 500 yen.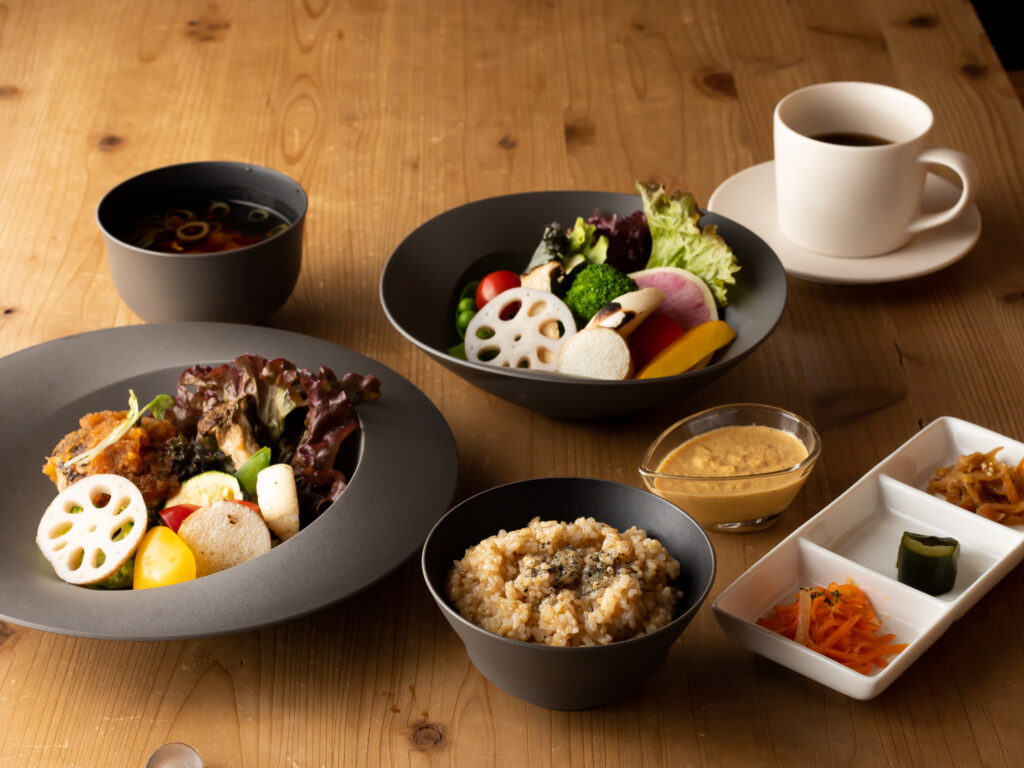 We have elevated our lunch set menu into a dinner course, aiming to create a more refined dining experience. One of the highlights is our popular "Barbacoa-style" salad, accompanied by a selection of fresh and delicious vegetables.
By emphasizing the importance of providing high-quality, fresh vegetables, we have crafted a course that offers a more indulgent and leisurely dining experience.
Dinner Course 4700 yen (For vegans)
・Today's 3 kinds of appetizers
・Seasonal vegetables half-bagna cauda-style with a choice of main dish (fragrant pork or soy meat) with a choice of special sauce or veggie sauce
・Choice of main dish (please choose from the separate sheet provided on the day)
・Organic brown rice from Kanpo Nouhou (can be changed to aged brown rice for an additional 50 yen)
・Miso soup with organic soybean miso from Kanpo Nouhou
・Chef's choice dessert (you can choose a dessert for an additional 50 yen)
・Coffee or herbal tea (Drinks priced at 550 yen can be changed for an additional 100 yen, and those priced at 600 yen can be changed for an additional 150 yen.)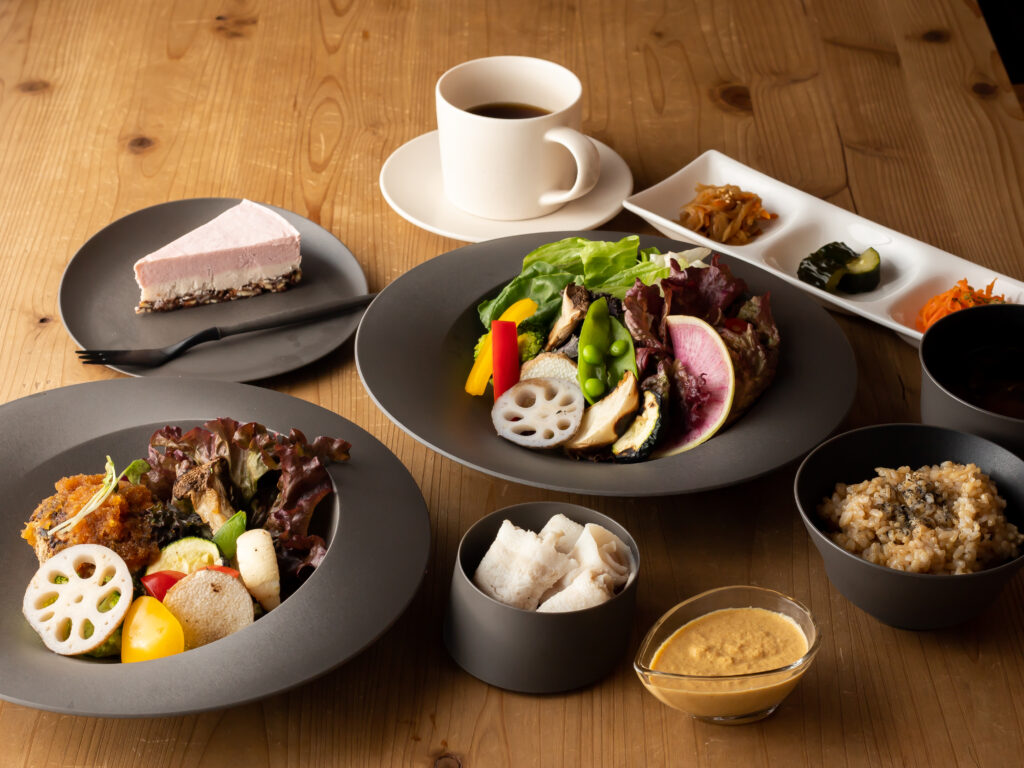 Our dinner course features a wide range of menu items that are not available during lunchtime. We have also prepared a variety of vegan options that are approachable and appealing to all.
With a diverse selection of dishes to choose from, our course is designed to allow guests to enjoy the dining experience from the moment they start selecting their meal. We believe that the ability to choose enhances the enjoyment of the dining experience.
Basic Course 5000 yen
・Today's appetizer platter
・Seasonal vegetables "Half-bagna cauda style" with fried fish
・Seasonal vegetables and fragrant pork quiche
・Fragrant pork hamburger doria (with white rice)
・Today's soup
・Choice of dessert
・Coffee or tea/herbal tea (Drinks priced at 600 yen can be changed for an additional 50 yen.
Plant-Based Course 5000 yen (For vegans)
・Today's appetizer trio
・Cucuri Cafe's special seasonal vegetable bagna cauda-style dish (with fried tempeh)
・Vegan quiche
・Plant-based brown rice gratin with vegetable burger
・Today's soup
・Choice of plant-based dessert
・Coffee or tea (600 yen drinks can be substituted for an additional 50 yen)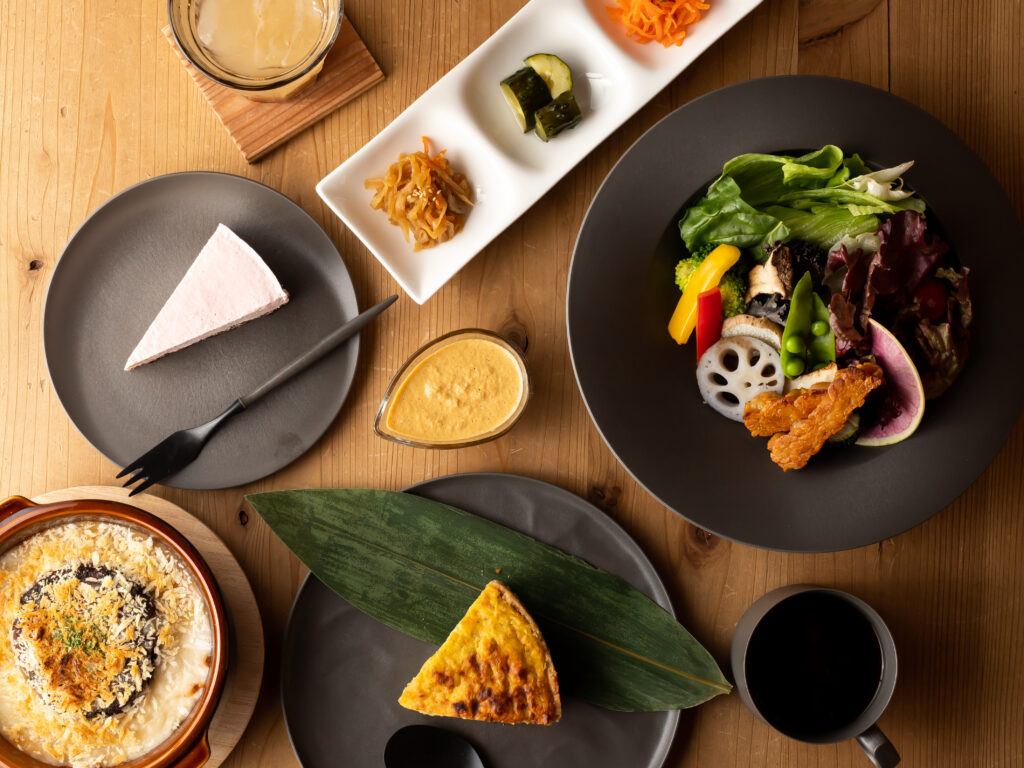 plant-based course
We have designed the course menu based on our own concept. It consists of Bagna Cauda, Quiche, Doria, and Dessert, each available in two variations: one using animal-derived ingredients (Basic Course) and the other using only plant-based ingredients (Plant-based Course). This course offers the enjoyment and discovery of both aspects' unique charms.
---
Original Course 7500 yen
・Assorted 3 appetizers
・Seasonal vegetables in the style of Bagna Cauda with 2 types of sauce (choose 2 from tempeh, fragrant pork, fish fry, and soybeans)
・Roasted fragrant pork with salt koji
・Vegetable fry with soy tartar sauce
・Vegetable hamburger with choice of sauce
・A bowl of brown rice and miso soup
・Choice of cake and half-boiled egg ice cream
・Your choice of drink
*You can change the cake and post-meal drink to takeout. Please consult us in advance.
---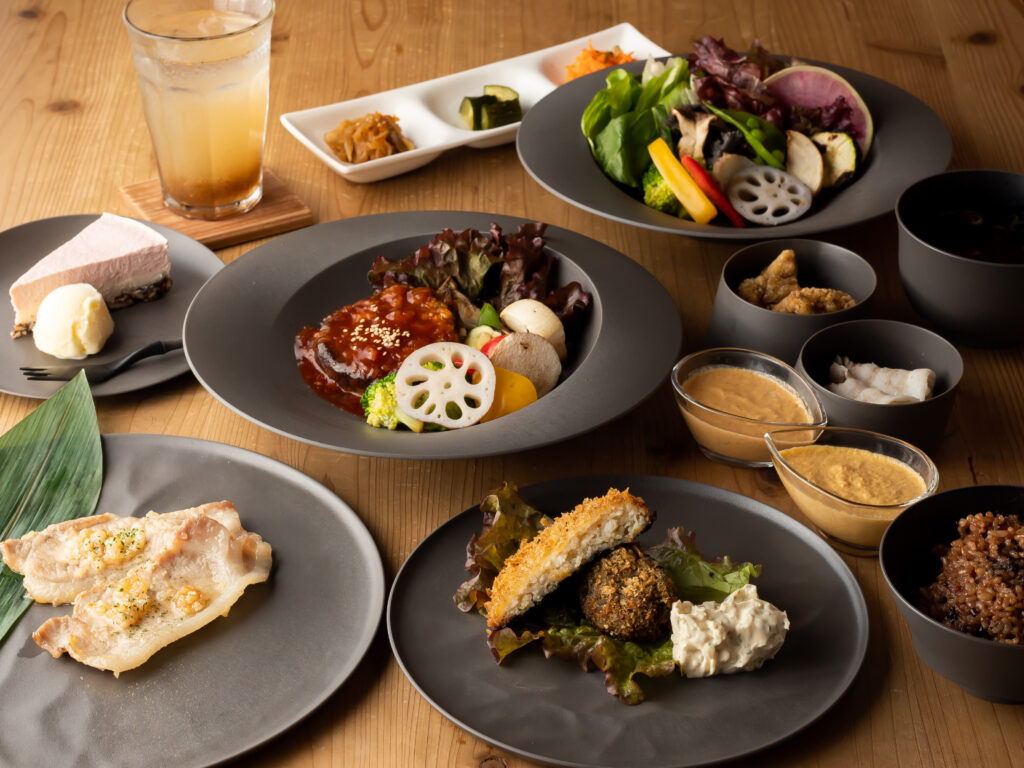 We warmly welcome our guests with a diverse range of menus, incorporating both vegetarian and non-vegetarian options. From our signature dishes to special dinner menus, we strive to cater to a variety of preferences.
From appetizers to desserts, our dishes are generously portioned, so we recommend arriving with an appetite. We look forward to serving you and providing a satisfying dining experience from start to finish.